Highlights from Our Interest Groups
Avi Set Birders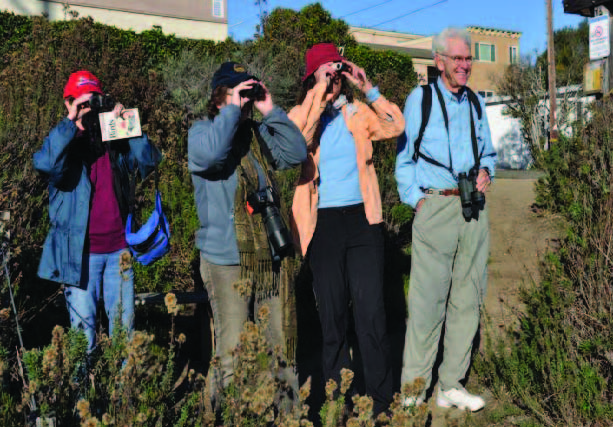 We are the Avi Set, and since avis is the latin word for bird, not surprisingly we watch, observe, and look at birds. The great thing is that all you need is a pair of binoculars, and a willingness to get up a little early to see the beautiful birds that we share our planet with, going about their lives. We have an extraordinary diversity of birds in San Diego County, with the added excitement of the Spring & Fall migratory species. You do not have to know a Song Sparrow from a Savanna Sparrow; we all help each other when it comes to identifying birds. An unexpected bonus is that we visit sites all over San Diego County, and you will probably go to places you have never been before.
We meet on the second Monday of the month, every month except for the hot months of June to August. I would like to stress that you don't have to have any prior experience with birds or bird watching. We love having people who are interested in seeing our local birds, and we will be happy to help them learn about the birds we see on walks & in our gardens. We arrange for a car pool close to the campus, or you can drive independently. It is a great way to visit out of the way places in our county; we go to Famosa Slough, Robb Field, San Diego Flood Control Channel, Old Mission Dam, San Elijo Lagoon, and many other locations.
If you are interested in joining us please contact Liz Winant, lwinant@ucsd.edu .
Bridge, Day and Evening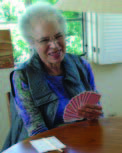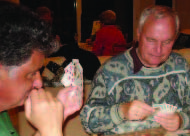 BRIDGE-BRIDGE-BRIDGE-BRIDGE

Playing bridge keeps us sharp. At least that's what the Oceanids' bridge players would tell you. There is an evening couples bridge group that plays every fourth Saturday, and a daytime bridge group that plays every first and third Tuesday. Both have been thriving for almost as long as Oceanids has existed. We play "party bridge" and the atmosphere is friendly, but there's no one who doesn't seriously prefer winning over losing. Even though this is "social bridge," we've all learned from each other and improved our games in the process. The evening couples group is open to new members. To sign up as a couple, please contact Barbara Bank at 858-484-4597 or bbank@ucsd.edu. The daytime group could use more substitutes, and this is a good way to see if the bridge group works for you. Please let Beate Menzel know if you're interested , 619-401-1557 or jrblmenzel@sbcglobal.net. And remember, playing bridge keeps those synapses firing!
Cafe
Français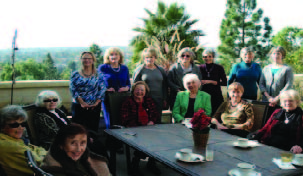 We are more than twenty in the group. We are all Americans but have different backgrounds and come originally from different countries. We have members from France, Germany, Switzerland,
Iran, Italy, Mexico, Greece and Turkey. What we all have in common is: we love speaking French.
We gather once a month, on the second Wednesdays at 12:00 pm to 2:00 pm from October to May. he hostess offers some food and refreshments; sometimes we have co-hostesses.
We talk about everything other than politics. Everybody has a chance to say something for a couple of minutes. Then we eat and gossip (not really) and enjoy being together.
If you want to be one of us, please come and join these active international ladies.
The photo was taken at the last meeting of the season in May at Klelia Mouzaki's home. Fiona Levin
was the co-host; both joined us this year. We were fourteen at this meeting and you can see our longest-time member Lucie Walther and the last but not least member Paulette Bohrer together. We are open for new members, and are waiting for you, your friends or family members to join us. I wish you all a very good summer.
Jusque Octobre.
Please contact Hulya Saygin, hulyasaygin@yahoo.com if you're interested.
Hiking In and Around San Diego County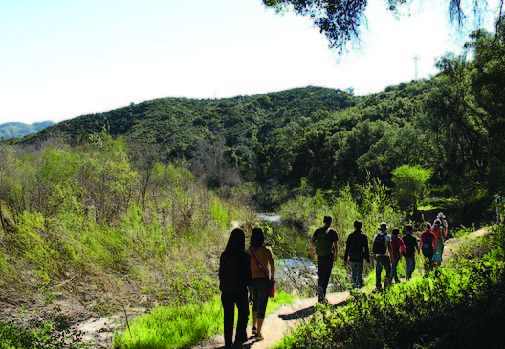 Hiking Adventures
Have you ever woken up on a Saturday morning, thinking that you should really do more in the way of physical exercise? And then wondered what to do about it? Walking the same streets every morning can be so boring, but where to go? And then you turned around and went back to sleep?
I have a suggestion: How about joining our interest group "Hiking in and around San Diego County"? Sure, we only meet once a month, but you would be surprised how much fun a hike in the beautiful back country can be. You might even decide to make a hike like that a weekly occurrence with friends or family.
I recommend Jerry Schad's Hiking Guide which will give you many extras such as best time of year for certain hikes, degree of strenuousness, length of hike and much more. Recently we have had an influx of many foreign students and scholars and it is very interesting to chat with them as we hike. But we keep to our standard 5-7 miles, even if they could go further.
For more information, please contact, Rosie/Roswitha Enright, renright@ucsd.edu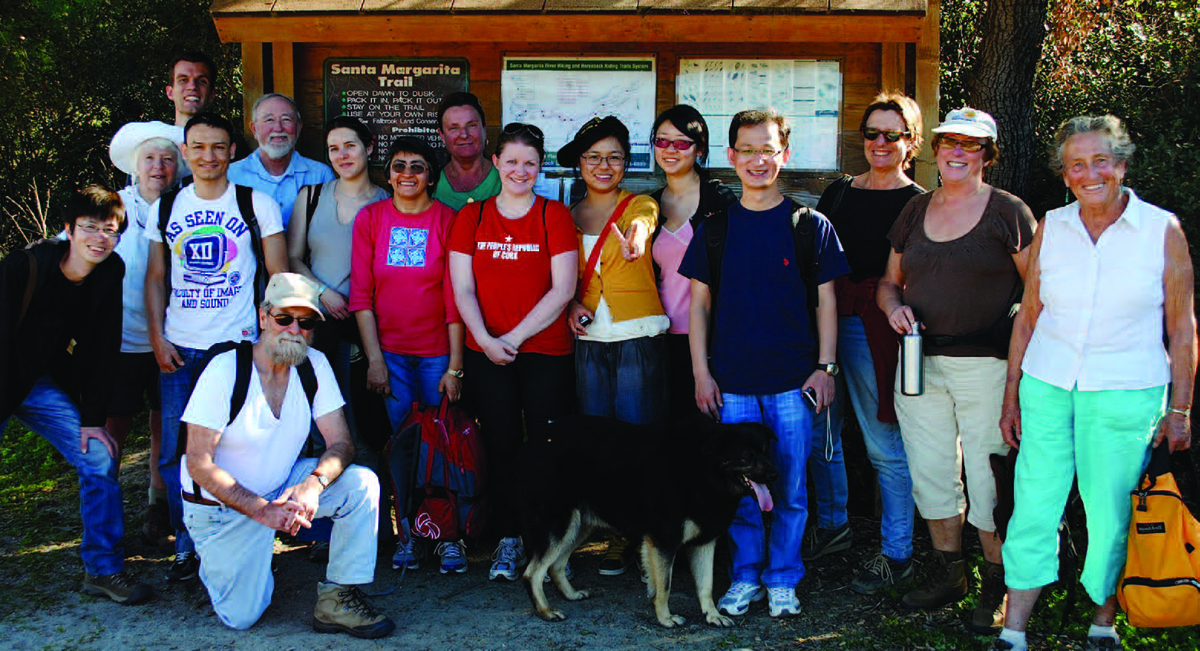 Gracious Aging
The Oceanids Gracious Aging group for folks over

80 started years ago by Ellen Revelle and Elibet Marshall

is now meeting the first Monday of each month

from 1 to 3 in the cottage library at the Quaker Meeting

House on Eads. We have about 5 regular attenders

and a scattering of intermittent visitors.

What do we do? Last month we played hooky and

went to a wonderful La Jolla Musicfest rehearsal and

then lunch at the Contemporary Art Museum cafe,

but generally we stay put and serve tea and the fruit,

cookies and sandwiches we bring. We talk less about

aging and aches and pains and grandchildren than you

would think, and more about ideas, language, travel

and fun.

Sometimes we have poems or photos to share, and it

is always so lovely to be with our peer group -- life at

80 or 90 is exciting, enriching, and sometimes challenging.

We are a friendly and welcoming group and with

friends from Sweden, Finland, and occasionally

England or Germany we are an international group

as well. We also have a retired teacher of romance

languages, and so are very multi-lingual. Our older

Quaker friends sometimes join us, as well as friends

from the neighborhood, and we all look forward to

our pleasant afternoon with friends old and new.

German Kaffeeklatsch

This is for Oceanids and their spouses who want to refresh their German language skills. Our members have usually spent some time in Germany, as students or professionals and like to practice a bit. Our group is small and everyone is encouraged to speak but just listening is also allowed! We meet once a month on the third Tuesday at 3pm, have some coffee or water or juice and some cookies and tell each other whatever comes to mind until about 4:30. We usually meet at my house in La Jolla. If you are interested please email me at renright@ucsd.edu.

Cinema Soiree

Do you enjoy movies and do you like talking about them? Come and join our Cinema Soirée evening. We meet once a month, always on the second Sunday of each month all year long and discuss a chosen movie. Every group member sees the movie at his/her own time. We meet at a member's home and listen to an introduction by the person who has chosen the movie to be discussed. You will receive an email in plenty of time which tells you which movie to see and where the meeting is going to be held. Another member has provided snacks and drinks (wine, beer, water) and we generally have a good time. The meeting starts at 7 pm and the discussion at 7:30. We are usually done by 9 pm. Come join us, it is very enjoyable. For more information mailto:renright@ucsd.edu.